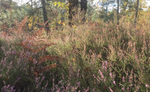 Bruyère and Callune 
Botany :
 There are 2 plants that look very similar, which often live next to each other and which have the same virtues: 
Calluna , Calluna vulgaris 
Heather , Erica vulgaris 
History :
Galen in the 2nd century already recommended heather against female and male urinary problems and to break up stones, Erica comes from the Greek which means to break, to break, which could not be clearer, the name of the plants always being in concordance with the relationship they have with the  men.
Ancient medical literature is quite prolix on heather, as we can verify with these few examples, even if the plants closest to us have always suffered from a certain disdain due to their too close proximity or their lack of exoticism.
Universal dictionary of simple drugs, containing their names, origin, choice, principles, virtues, etimology, & what is particular in animals, plants, & minerals
By Nicolas Lémery (1645-1715) and Antoine de Jussieu (1686-1758)
Heather has long been known for its ability to "break or break the kidney and bladder stone" but thanks to Gemmotherapy other virtues have been discovered and this slender plant proves to be very powerful while acting gently.                 
Extract from the Diderot d'Alembert encyclopedia volume II (1752) p.453a authors: Daubenton, Vandenesse
We discover with interest that " Rondelet, according to Clusius, used the oil of his flowers for facial blemishes. "
This cutaneous application (stingers: pityriasis alba or eczematides) has been verified today in Gemmotherapy (see at the end of this article) . 
It would be appropriate to study/verify the virtues of distilled juice or water on the eyes as mentioned following the article.
" Tabernaemontanus asserts that the fomentation of its flowers calms gout. The steam bath with  the leaves & flowers of the same plant produce the same effect. Tournefort, Hist. plants.(N)
Fomentation: hot poultices
Main indications:
urinary tract (antiseptic), genital and intestine.
(see the end of this article for a more complete list of indications)
Advice :
For women and men, accompany the taking of Bruyère Gemmessence Gemmotherapy with:
- heather decoction 
- heather honey 
- Propolis
- Poultices or hot baths with heather decoction
For women :
- drink regularly throughout the day to urinate often, if possible every two hours to avoid urinary infections.
For men :
- do urethral exercises: push on the urethra as if to urinate, giving short short strokes (gradually up to 50 per day) then more sustained strokes lasting several seconds (gradually up to 50 per day). This exercise can help restore flexibility to the urinary canal.
Landes landscape or Gemmessence harvests young heather shoots.
Testimonials :
Woman, AC 49 years old:
I was prone to chronic urinary infections and for a long time I had the reflex of the flash antibiotic (Monuril not to name it) that women know well... I wanted to get away from allopathic chemistry and I tried gemmotherapy of Bruyère taken concentrated during an attack: the regulation of elimination is spectacular, the bladder empties normally and I found urinary comfort. Since then I have regularly taken a 3-week preventive course, I never have urinary infections again. I think that the action of Heather combined with Blackcurrant and Hazelnut that the Gemmessence laboratory offers is remarkable, almost magical!
Thanks
Male, AO 60 years old:
Hello Gemmessence
A thousand thanks for the Bruyère which had incredible effects on me. I was starting to have serious prostate problems. Most annoying were my frequent visits to the WC at night. I had repeated urinary tract infections. From  regular use of Heather + blackcurrant drops, not only have my urinary infections calmed down due to the purifying effect of it, but also - according to the last clinical examination by my urologist - I am able to completely empty my bladder . This has not been the case for a long time. It is a product that is certainly very promising. It is natural, non-toxic to the body, but very beneficial against age-related prostate disorders like in my case. It is also very energizing.
Thanks again and see you soon.
Male, TD 55 years old:
For no particular reason (age…) I suddenly felt almost unable to urinate as if the muscle of the urethra was no longer responding. After 3/4 days of taking 10 drops of Gemmessence Heather Gemmotherapy in the morning and evening, everything returned to normal. I continued the treatment for 3 weeks and since then I have had no more problems. I now take 2 courses of it for prevention per year.
Other indications:
These indications are a summary that you can find in full in  the book "Precis of Gemmotherapy, doctor Fernando Pitera di Clima and professor Marcello Nicoletti published by AMYRIS.
General infections
drainage of body fluids
chronic infections
chronic inflammation
Cardiovascular system
Arteritis of the lower limbs
hypertension, degenerative inflammation of the arterial circulation 
Skin apparatus
chronic acne, dry eczema, pityriasis (darters)
Hepatobiliary Apparatus
amyloid degeneration of the liver
Urogenital apparatus
urinary tract lithiasis, 
acute cystitis, prostatitis, recurrent cystitis, cystopielitis, 
colibacilloses (infections in the genitourinary system)
amyloid degeneration of the kidney, dysuria, urinary tract infection, 
renal failure, 
chronic pyelonephritis (urinary kidney infection caused by Escherichia coli bacteria)
pyuria (presence of pus, altered leukocytes in the urine), 
Digestive system
Intestinal candidiasis, Diarrhea, intestinal dysabiosis, intestinal mycoses, 
Central nervous system
Amnesia, anxiety, memory problems, insomnia
Peripheral nervous system
Chronic neurological conditions, neuropathies 
Respiratory system
Amyloid degeneration of the lung, secondary to pulmonary abscesses, 
Skeletal and osteoarticular system
Gout arthritis, Rheumatic arthritis, chronic osteomyelitis, rheumatoid arthritis (Pol Henry) 
Anti-inflammatory, anti-microbial, anxiolytic Antidepressant
Starchenko, Galyna, et al. "Phytochemical Profile and Pharmacological Activities of Water and Hydroethanolic Dry Extracts of Calluna Vulgaris (L.) Hull. Herb." Plants (Basel, Switzerland), vol. 9, no. 6, 2020.
According to data from the WHO (2017), depression is the most common illness in the world, with approximately 300 million people suffering from it, and bipolar disorder is the second most common illness. Therefore, it is relevant to research new drugs based on herbal raw materials with anti-anxiety and anti-depressant effects. Common heather (Calluna vulgaris (L.) Hull.), a flowering plant in the family Ericaceae, is a promising species for research in this area. The aim of this study was to investigate the phytochemical profile and several biological activities of dry hydroethanolic extracts of the herb C. vulgaris. Nineteen phenolic substances were identified and quantified in the extracts by HPLC. The quantitative content of basic groups of biologically active compounds was determined spectrophotometrically. Arbutin was dominant among the hydroquinone derivatives; chlorogenic acid among hydroxycinnamic acids; rutin, hyperoside and quercetin-3-D-glucoside among the flavonoids; and (+) - gallocatechin and (-) - epigallocatechin among the tannin metabolites. Water and hydroethanolic extract were compared, C. vulgaris herb extract obtained with 70% hydroethanol had the effects of anti-inflammatory, antimicrobial, anxiolytic, anti-stress, anti-anxiety and anti- most pronounced depressants , and this is a promising effect. substance for the development of new drugs or food supplements.
antibacterial (B.subtilis bacteria, E.coli)
Chepel, Victoria, et al. "Changes in the Content of some Groups of Phenolic Compounds and Biological Activity of Extracts of Various Parts of Heather (Calluna Vulgaris (L.) Hull) at Different Growth Stages." Plants (Basel, Switzerland), vol. 9, no. 8, 2020.
Heather (Calluna vulgaris (L.) Hull.) is known for its diverse chemical composition and wide range of biological activities. The present study aimed to monitor changes in the accumulation of certain groups of phenolic compounds in various heather organs (leaves, stems, roots, rhizomes, flowers and seeds) at different growth stages (vegetative, floral budding, flowering and seed). maturation) as well as the study of the antioxidant (using DPPH and FRAP assays) and the antibacterial activity of its extracts. The highest total amount of phenolics, tannins, flavonoids, hydroxycinnamic acids and proanthocyanidins were detected in leaves and roots at all growth stages except the flowering stage. At the flowering stage, the highest content of some groups of phenolic compounds (flavonoids, proanthocyanidins and anthocyanins) was observed in flowers. The highest antioxidant activity was recorded for the flower extracts (approximately 500 mg of ascorbic acid equivalents per gram according to DPPH assay) and for the leaf extract at the ripening stage (approximately 350 mg of equivalents of ascorbic acid per gram according to the FRAP assay). A strong correlation was noted between antioxidant activity (DPPH) and anthocyanin content (r = 0.75, p ≤ 0.01) as well as between antioxidant activity (FRAP) and total phenolic content. (r = 0.77, p ≤ 0.01). Leaf extracts and stem extracts were found to have antibacterial action against both Gram-negative and Gram-positive bacteria, while root extracts appeared to be active only against B. subtilis and rhizome extracts against E. coli .
Antioxidants, Antibacterial, anti-inflammatory
Mandim, Filipa, et al. "Calluna Vulgaris (L.) Hull: Chemical Characterization, Evaluation of Its Bioactive Properties and Effect On the Vaginal Microbiota." Food & Function, vol. 10, no. 1, 2019, pp. 78-89.
The inflorescences of Calluna vulgaris were characterized nutritionally and chemically. Furthermore, different organic and aqueous extracts were prepared for the evaluation of their bioactive properties. According to the results obtained, carbohydrates were the main compounds, followed by proteins, lipids and ash. It was possible to identify the sugars fructose and glucose, five organic acids, 26 individual fatty acids and the four isoforms of tocopherol. Regarding the composition of the extract, 12 phenolic compounds were identified, myricetin-3-O-glucoside and myricetin-O-rhamnoside being predominant. Regarding bioactive effects, the most polar extracts showed not only the highest amount of phenolic compounds, but also the strongest antioxidant and antibacterial activities. In contrast, for anti-inflammatory and cytotoxic potential, the most effective extracts were n-hexane and ethyl acetate extracts, respectively. C. vulgaris exhibited a wide range of biological effects, highlighting their ability to inhibit pathogenic bacteria without affecting beneficial microflora, supporting their use in traditional medicine.

antibacterial, urinary tract infections (Escherichia coli, Enterococcus faecalis and Proteus vulgaris)
Vučić, Dragana M., et al. "In Vitro Activity of Heather [Calluna Vulgaris (L.) Hull] Extracts On Selected Urinary Tract Pathogens." Bosnian Journal of Basic Medical Sciences, vol. 14, no. 4, 2014, p. 234-8.
Calluna vulgaris L. Hull (Ericaceae) has been used for the treatment of urinary tract infections in traditional medicine. In this study, we analyzed the in vitro antibacterial activity of plant extracts on different strains of Escherichia coli, Enterococcus faecalis and Proteus vulgaris, as well as the concentrations of total phenols and flavonoids in the extracts. The minimum inhibitory concentration (MIC) and minimum bactericidal concentration (MBC) were determined. Concentrations of total phenols were examined using the Folin-Ciocalteu reagent and ranged between 67.55 and 142.46 mg GAE/g. The concentrations of flavonoids in the extracts were determined using the spectrophotometric method with aluminum chloride and the values ​​ranged from 42.11 to 63.68 mg RUE/g. The aqueous extract of C. vulgaris showed significant antibacterial activity. The MIC values ​​were between 2.5 mg/ml and 20 mg/ml for this extract. Strains of Proteus vulgaris were found to be the most sensitive. The results obtained suggest that all tested extracts of C. vulgaris inhibit the growth of human pathogens, especially the aqueous extract.
Anti-viral (hepatitis C)
García-Risco, Mónica Rodriguez, et al. "Supercritical Fluid Extraction of Heather (Calluna Vulgaris) and Evaluation of Anti-hepatitis C Virus Activity of the Extracts." Virus Research, vol. 198, 2015, p. 9-14.
Previous studies using lipid extracts from heather (Calluna vulgaris) leaves have shown the presence of high concentrations of ursolic and oleanolic acid. Both compounds have been reported to exhibit antiviral activity against hepatitis C virus (HCV). In this work, the supercritical fluid extraction of heather was studied with the aim of evaluating a potential anti-HCV activity of the extracts due to their triterpene acid content. Supercritical extraction assays were performed by exploring the pressure range of 20–50 MPa, temperatures of 40–70°C, and 0–15% ethanol cosolvent. The content of oleanolic and ursolic acid in the extracts was determined, and different samples were screened for cellular cytotoxicity and virus inhibition using an HCV cell culture infection system. Antiviral activity was observed in most extracts. In general, higher anti-HCV activity was observed for higher contents of oleanolic and ursolic acids in the extracts.
antioxidant 
Rodrigues, Francisca, et al. "The Phytochemical and Bioactivity Profiles of Wild Calluna Vulgaris L. Flowers." Food Research International (Ottawa, ON), vol. 111, 2018, p. 724-731.
The nutritional composition of Calluna vulgaris flowers as well as the phytochemical, antioxidant (DPPH and FRAP assays), antimicrobial and cytotoxic (in human immortalized non-tumorigenic keratinocytes and fibroblasts) profiles of the aqueous, hydroalcoholic and ethanolic extracts were evaluated. High fiber and carbohydrate content (75%) and the prevalence of α-tocopherol as a vitamer deserve special attention. Linolenic (35%), linoleic (27%) and palmitic (21%) acids were the most abundant fatty acids. Qualitative and quantitative analysis by LC-MS and 1NMR indicated high levels of quercetin, kaempferol and myricetin derivatives as well as procyanidins. The hydroalcoholic extract showed the highest antioxidant activity and total phenolic (TPC) and flavonoid (TFC) contents. No adverse effects on cells were observed until a concentration of 100 μg/mL and good antimicrobial activity were reported against S. epidermidis and S. aureus with the hydroalcoholic extract. The data obtained demonstrated that wild plants such as heather, although not a common nutritional reference, can be used in a food base as a source of bioactive compounds, namely antioxidants.
Calluna vulgaris (L.) Hull: chemical characterization, evaluation of its bioactive properties and effect on the vaginal microbiota 
FilipaMandim, LillianBarros, RicardoC.Calhelha, RuiM.V.Abreu, 
José Pinela, Maria José Alves, Sandrina Heleno, PF Santos 
Isabel CFR Ferreira