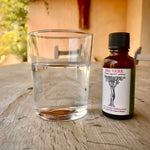 The choice of dosage is as important as the choice of plant or mycelium and can hardly be done at random. There is a kind of standard that Gemmotherapists have created and that has worked on patients and  I therefore reproduce it here for those who prefer to manage their health alone. 
For information I allow myself to indicate that the dosages that I find vibratory range from 1 drop in the morning to 30 drops this is a ratio depending on the sensitivity of the person to the intensity of his pathology. The duration varies from a few days to 1 or more years.
There are several ways to dose the intake of drops in gemmotherapy and to choose a treatment:
Be one a cure lasting 3 weeks to begin with. If you want to continue the cure it is possible to do it again 3 weeks after a week off. Certain plants (such as the Fig tree, Heather, Blackcurrant, etc.) can be taken "over the long term" 3 weeks out of 4 and even over a long period, for example 1 to 2 years for the fig tree in the event of an ulcer, the Gemmotherapy with no side effects (see the usual precautions for use).
It is advisable to adapt the dosage to its corpulence or its sensitivity and to the intensity of its pathology. Our Gemmotherapy is concentrated and it is not useful to increase the doses too much, however you can take 5 drops of fig tree in the middle of the day if you feel the need in case of stress, for example, to allow you to rest before resuming. its activities, likewise in case of cystitis you can take several small doses of Bruyère (or Cysti-G) throughout the day.
1-For an acute physiological problem
    5 drops twice a day at sunrise and at bedtime.
2-For a physiological problem of medium intensity 
3 drops  2 times a day at sunrise and at bedtime.
3-For a preventive intake (without particular pathology)
3 drops once a day upon rising.
If possible take the drops sublingually (under the tongue) so absorption is faster and more effective.
"Choose" a treatment
Apart from any pathology, Gemmotherapy can have positive effects depending on the sensitivity of each person, it is a way of understanding your body and responding to these reactions. Teenagers, who are very sensitive, generally feel the beneficial effects of Gemmotherapy quite quickly. The Apple tree, for example, can help young people at puberty to harmonize and regulate hormones. This is also the case with menopause and andropause.
 Mother macerates also help to reconnect with one's nature, prevention is particularly active even if it is subtle...
Nature makes no distinction between body and spirit. Well-being and health are a whole which is articulated first by a disposition of the mind, an energy of life which is contained in all the macerates which have been able to preserve the soul of the plant.